You are here
NUSAF3 builds roads in Aduku Town Council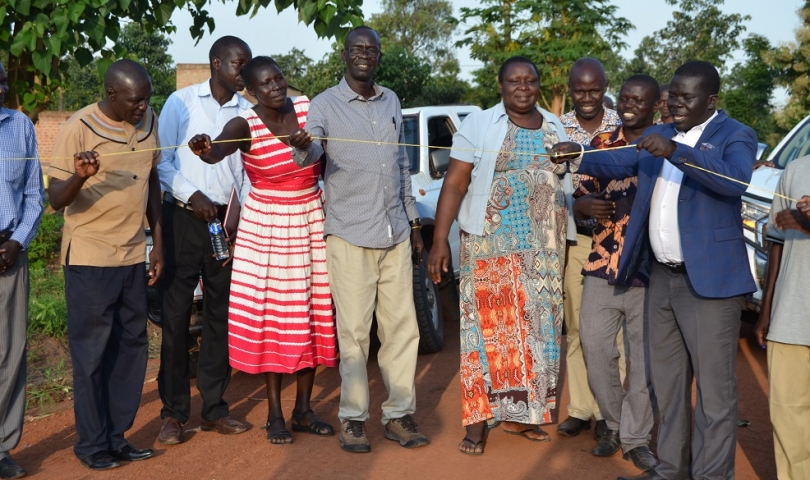 NUSAF3 builds Aduku Town Council roads
MORE than shs 126 Million have been spent on opening Community Access Roads in Aduku Town Council under the Third Northern Uganda Social Action Fund (NUSAF3) project.
Apac District NUSAF3 Desk Officer, Jasper Otimoi said that the projects that used labour-based graveled three road sections of the Town Council. He was addressing leaders and beneficiary community members during a commissioning function at Adyeda.
Ring-Road-Otogole, Bung Teduka and Alany –Adyeda community access roads were handed over to the community for regular maintenance.
Otimoi said 70% of the money sank in the community as they were paid for their labour while working on the roads. "We expect the money you received can change your life. It is already the start of good saving culture," he said.
He added that the community groups should be strengthened and continues to save money that will be shared by members at the end of each year.
He noted that the new roads have increased the land values and access to better crop markets and other services. "Plot your lands and sell or develop if you have enough money," he said.
Apac District Chairman, Bob Okae lauded the government for initiating NUSAF3 project aimed at reducing development gap between the north and other parts of the country. "Apac is the best performing district in the whole county. We are happy for this success story resulting from team work," he said.
Okae urged the community to ensure effective maintenance of the infrastructure until such a time when Town Council authority takes over from them. "You asked for the roads and you were given, so maintain them," he said.
Okae noted that his government opened several roads in Kwania and Maruzi counties for ease of access to health and education facilities including good market for produce.
Basil Okello Onac, the interim chairman, Kwania District, advised that the roads be named after some prominent personalities in Lango sub region. He praised President Museveni for his development vision and indicatives that even benefit Lango subregion.
Kwania Resident District Commissioner, Komakech Salim lauded NUSAF3 leaders for their transparent and accountable handling of projects that have benefited the poor. "We are proud that infrastructure development in the greater Apac is good," he said.
He noted that NUSAF3 target poor household s and community members who are hardworking and self-driven. "Our people must stop being lazy, drunkards and work hard to fight abject poverty in their homes," he said.
"It is annoying to see women dominating digging, market buying foods, burials…as men are busy drinking-source of poverty," he revealed.
The RDC also cautioned that religion should not be a source of poverty as most believers spend much time in churches at the expense of farming or business. "Apportion your time well so that you do not lose out on business that increases your household incomes,"Komakech said.
The End…