You are here
NUSAF3 benefits residents of Kwania
Tuesday, 03 September 2019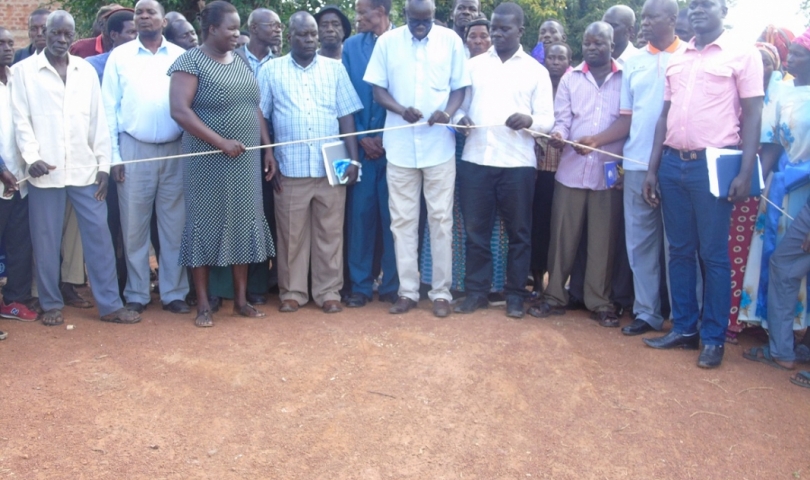 NUSAF3 opens community access roads in Kwania
Residents of Anwangi parish, Nambieso subcounty, Kwania district have every reason to smile as four community access roads have been constructed under NUSAF3 project.
Otimoi Jasper, NUSAF District Officer, Apac, said that produce buyers have started accessing the peasant farmers with their heavy trucks, resulting to attractive prices of crops. He was addressing a gathering during the commissioning of Ojokdot-Onekgwok road on 2nd September 2019.
Otimoi listed other roads constructed in the area as Anok-Agela, Anwangi-Ojokdot and Abura-OriyeB. "The school children can now go to school as early as 6.30am without being wetted by dews," Otimoi said.
He adds, "Permanent houses are now being constructed along these roads for business purposes. Small shops and trading centres cropping up in crowded places along the roads."
The roads were labour based, meaning locals did the works and were paid so that a big amount of the funds sink in the beneficiary community members.
Both Resident District Commissioner (RDC), Kwania, Komakech Salim, and District LC5 Chairman, Basil Okello Onac officiated the ceremony.
"Own and protect government projects in your area. Avoid vandalizing them thinking they are for government, but rather keep them safe and secured, ensure maintenance for continuity of service delivery," Komakech said.
"We must be thankful to the ruling government for all these development projects given to the community. Make the best use of these roads to enhance household incomes," Okello Onac advises.