You are here
Climate Justice is really a challenge and responsibility of everyone
Wednesday, 01 November 2023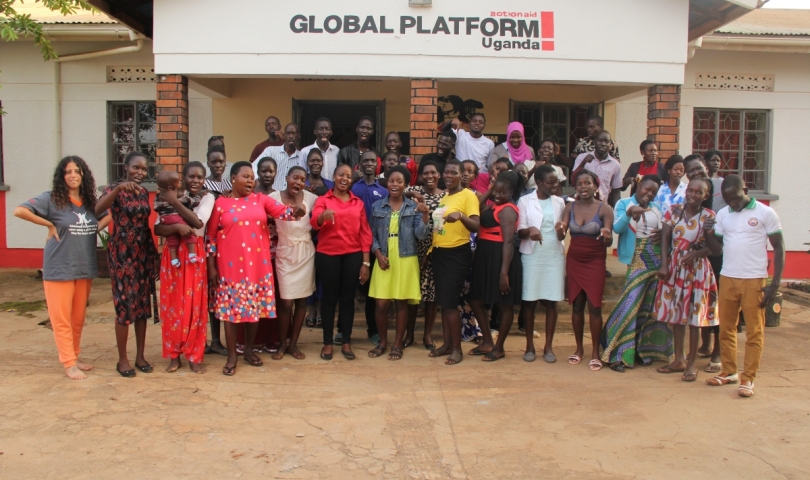 Global Platform (Action Aid Uganda) one of Apac District's Development Partners hinged on creative activism to create social change held a Climate Justice exhibition as part of a program to minimize or eradicate Climate Change effects Countrywide.
The exhibition is part of Platform's efforts to reduce levels of climate change effects at the District. According to the Climate Change Department-Ministry of Water & Environment, Uganda has the least capacity to adapt to climate change effects which makes her vulnerable to the negative impacts of climate change. It is a threat to its fragile ecosystems, people's livelihoods and ultimately the National Economic Development efforts. Uganda therefore made a decision to join the Community of Nations in the global cooperation to address the problem in a timeframe safe for life and development sustainability.
Speaking on behalf of Natural Resource Officer Eunice Abia, Walter Bua the assistant Forest Officer, highlighted the lack of information resulting to negative attitude towards tree growing as a primary cause of climate change in Uganda especially Lango Sub Region.
"Despite the Region being gifted by nature with fertile lands, we still have people who think growing trees isn't important, cutting trees to burn charcoal, firewood and this affects the climatic conditions of the region. Tree seedlings are available even local species can be transplanted for firewood but lack of sensitization is making the community members not to take it up" he said.
Bua stated that there is need for community engagements and education on the negative impacts of climate change. Also waste management need to be taken into account as it affects soil ph. In order to have a green region, Community and stakeholders should join hands in advocating for planting/growing of right tree spieces, proper waste management, smart climate agriculture practices so as we minimize the high danger of Climate Change.
The one- day workshop took place at the Global Paltform on 20th October, 2023. It was attended by staff from Apac District Local Government and Political leaders such as Female representative Apac Sub County, Female Representative PWDs and Members of GP from Gulu, Arua, Kampala, and Masindi among other areas.
Grace Regina Akullu, the team leader Global Platform/Apac, said that as Global Platform they have the responsibility to sensitize communities but there is need for coordination and formation of by-laws from political wing that encourage the people to plant and groom trees after planting.
Bua advised the Development Partners to include Climate change eradication slot in their programmes and budgeting for the climate change activities like Global Platform has taken the lead and also ensure that the activism is operational. He recommended that since the District has financial constraints, partners can come in to assist in the fight.
Ms. Alice, an activist from Kampala, emphasized the importance of planting trees, proper waste management, joint contribution to protect environment and reduce on use of toxic materials that affects our environment.
According to Alice, we cannot choose social economic development over climate change. However, because we need development, there is need for putting into consideration the environmental protection aspect by many stakeholders.
"There are many people in Uganda who need development and most of them have not considered climate aspect in their activities. For example, people of Bulisa where there is oil mines but before the project, did the stakeholders put into consideration the outcome of oil mining" said Alice.
The activist recommends for gender equality, putting into consideration climate preservation aspect in all development, support from the political and technical wing at the District, government. The political wing needs to come up with policies that prioritise the need for climate protection and technical people to generate Climate protection Action Plan and implementation followed with inclusion of everyone.
All stakeholders should be involved and conditions should be attached to support the implementation process then we shall have a green environment.