You are here
Apac Hospital refurbished
Thursday, 19 September 2019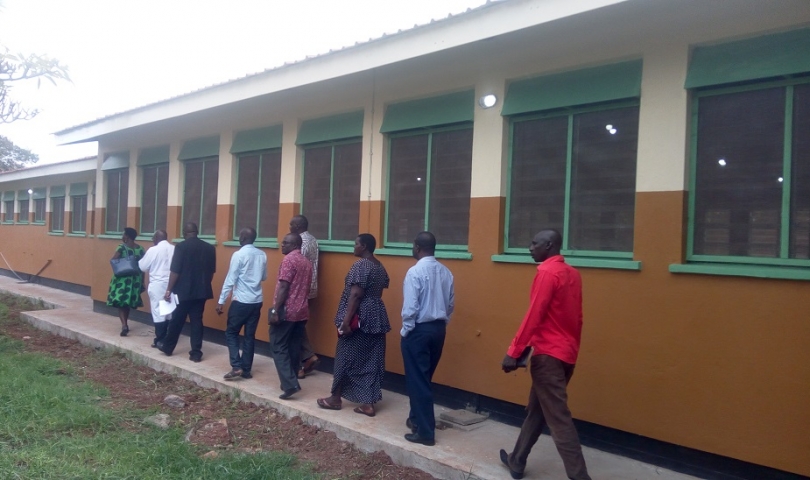 Apac Hospital shines again
MORE than sh3 Billion have so far been injected in the mega renovation of Apac Hospital, in addition to new constructions of units.
Acting District Health Officer, Ocheng Leone noted that the general hospital has had phased renovations beginning with Children's ward, Maternity ward , Female ward and Out-Patient Department. Others are constructions of a magnificent laboratory structure, expanded mortuary with a six-body fridge and a theatre. "But we have to source for funds for renovation of male ward and staff quarters," he said.
He was addressing a handover ceremony of a Female Ward renovated by Robling Enterprises Ltd at a cost of shs246 million.
Resident District Commissioner, Beatrice Akello Akori praised the contractor, Robling Enterprises Ltd for the job well done. "All stakeholders are happy of the works executed, this is the kind of contractors which must be entrusted to do public works on behalf of government," she lauds.
District Speaker, Obong Acuda, who represented District Chairperson, hailed central government for releasing funds towards face-lifting the hospital. He urged the hospital management to sensitize patients and their attendants on how to use the facility. "We must plan for the operation and maintenance of the facility in our annual budgets," Obong said.
District Engineer, Nelson Okello praised the contractor saying satisfactory works were done, the reason why the facility was being handed over to the hospital management for reuse.
"I was personally supervising and advising the contractor to realize value for money output. We have spent less money compared to centrally procured and managed projects," he noted. He promised to jointly source for more funds to refurbish male maternity ward and staff residential structures.